(Last Updated On: July 30, 2022)
A country risen from the ashes of a violent turmoil, civil narcotic war and turbulent past to show the world its natural and true beauty.
This isn't your usual type of guide to budget backpacking Colombia. This overview doesn't tell you how to plan your itinerary, cover 'top 10 things to see and do', what to pack, or offer a dollar by dollar account on what to spend.
However, in this post we do cover and provide you some useful tips, and advice, things to be wary of while backpacking Colombia, and practical information for everyday life while backpacking Colombia.
Backpacking Colombia shows you what an incredible country it is
Be honest now, when you think of Colombia, what's the first thing that pops into your head?
Is it the Netflix original Narco's? Pablo Escobar and Drug cartels and Cocaine? Violence? Political unrest? Guerrilla groups like the FARC? A country with a history of bloody violence civil wars?
Yes narcotics, especially cocaine are still readily available at the drop of a hat. Yes there are some areas still controlled by guerrilla forces and yes there is some violence still but Colombia is a country that's reinventing itself. It's a country rising from the ashes.
Even though Tourism in Colombia is growing and it's showing the world what it truly has to offer, It's still quite misunderstood. The outside world still seems to tarnish the country with It's historical brush. That stigma of what the country was during Pablo escobar's reign still remains to many people around the world.
Look to the future not the past
However, this country is doing It's hardest to eradicate those stigmas, over the years Colombia has taken leaps and bounds to move away from It's bloody, narcotic fuelled past. This is a country that in only a matter of years is completely different to the one the world used to know. It's growing reputation can be seen by the number of tourists, travelers and backpackers that fall in love with the countries charm…And it's one I fell in love with!
Backpacking Colombia gives you a chance to really see It's diversity, vibrant colors and just how full of beauty it is. Take your pick from the Caribbean beaches, dense jungles, coffee farms, clean modernized cities and amazing people. Colombia is also a gateway to the Amazon Jungle and the start of the Andes.
budget backpacking colombia
In this country overview we are going to dive into and cover things you will need to know for everyday backpacking life: 
Basic information for backpacking Colombia   
Visa options for backpacking Colombia
Practical tips 
Things to be wary about 
Budgeting information for backpacking Colombia
Local and national transport information
Accommodation options 
My personal experience of backpacking Colombia
Interactive map of Colombia
Basic things to know before backpacking Colombia
Language spoken:

Spanish

Is English spoken:

Yes

Currency:

Colombian Peso

Backpacking through Colombia is

–

Fair

To check live rates click here

XE.com
Visa options for backpacking Colombia
British Tourists don't need a Visa while backpacking Colombia, however, we do get issued with Tourist cards at airports with a rough idea of the length of stay.
Keep hold of these cards as you will need them when leaving the country. If you lose the card you will get fined when leaving the country (It's a big dent in your budget when you have to pay a fine)
To check your nationalities Visa requirements check here CIBTVisas
Practical tips for backpacking Colombia
Only get into official taxis with meters. Be careful At Bogotá Airport, touts will try to get you to use private taxi's – Don't! Only use the official ones that line up outside the airport
Street art is everywhere in Colombia, places like La Candelaria have streets and alleys full of amazing street art
It's good to learn some basic Spanish, Colombians do speak English in the cities but still comes in handy with locals
Colombians love any excuse to party – Don't be surprised at random street parties and carnivals to just pop up
If you want to visit the Tayrona national park, check beforehand as it closes every year for a certain amount of time
Be prepared for the color and charm of Colombia to suck you in
Colombia is trying hard to move away from it's past and Pablo Escobar, outside of Medellin they don't like his name mentioned
Even though Colombia is a lot safer nowadays there are still some rough areas you should stay away from
If there is a sign telling you not to go out alone at night, or not to go down certain streets, listen to them. Do not think you're an exception the signs are there for a reason
In Bogotá don't be surprised to see armed police officers with guard dogs on every street corner. No need to be concerned though, it's just protection against any possible threats from guerrilla groups, they never engage with tourists
Colombian food is very diverse, do try Tamales, Arepas, Empanadas, Sanchocho and Ajiaco's. If you like plantain they will come served with most food
If you love coffee, try to visit Salento in the coffee region
Cartagena is the most expensive part of Colombia, a holiday hotspot for wealthy Colombians and Americans. However, it's an amazing historically significant city. (Ask locals why that old Spanish boat is still docked in the jetty.)
Drinking alcohol on the streets is legal and very common to find groups gathering and entertaining themselves. Don't be afraid to join in
Flying around Colombia is almost the same price as long bus journeys
You will find some incredible waterfalls in the jungles and forests all over Colombia
Cocaine is readily available at the drop of the hat, everybody on the street will offer it to you. If you choose to take it, try getting it from somebody reliable and not just anybody off the street – You never know what they're giving to you
Doing a trip to the Amazon from Colombia is much cheaper than doing it from Brazil
Things to be wary of when backpacking Colombia
Even though Colombia is a very safe country to travel now, there are some violent homeless people in places like Bogotá, do not engage with them

Don't go flashing your cash in public, you will get targeted

Bogotá is up against the Andes and gets very cold even when the rest of Colombia is hot, so take warm clothes

Water isn't safe to drink out of taps in most areas but is fine in certain cities like Bogotá

Try not to take taxis on your own at night, always ask your hostel or accommodation to provide a taxi for you

Police will regularly board buses to check ID's, you might get an overzealous officer who wants to know more than he needs to. (Happened to me on my way to Medellin, with the help of google translate it was worked out)

Certain police departments in Colombia are still corrupt, so be careful if they try to extort you

Stay away from areas still controlled by Gorilla groups (they still control some jungle areas)

Drugs will be pushed on you in the streets, do not buy them from these guys as they could be undercover police and you don't know what they are selling. In places like Medellin, dealers will sell to you and then tell the police they sold to you. (Yes It's a setup, saw it happen to plenty of people with my own eyes.)
If you feel like you need Travel insurance for Backpacking Colombia, get a quote from World Nomads one of the worlds best travel insurance companies for backpackers
Budget information for backpacking Colombia
I was expecting Colombia to be a lot more expensive than it turned out to be. I was able to travel Colombia and live in Bogotá for three months within my tight budget. Unlike other countries where prices can fluctuate depending on the region, Colombia has similar prices nationwide. That is except for areas of Medellin like Poblado (Hipster and backpacker area) and Cartagena where the prices are higher because of the growth in tourism in these areas.
Cartagena is a popular holiday destination for Americans and wealthy Colombians so the prices are jacked up. If you're on a tight budget you don't have to skip it, your purse strings will just be a little tighter. To save money it's a good idea to find accommodation outside the walled city, eat the amazing street food for next to nothing and buy alcohol from stores and not bars. (Drinking in public is legal)
Food and drinks are very inexpensive, eating street food, eating local food, buying set menu meals and cooking for yourself are the cheapest options. Buying alcohol in shops rather than bars will save you a lot on your budget.
Enjoying the post so far?
LET'S MAKE THIS EASIER
GET NEW BLOG POSTS STRAIGHT TO YOUR EMAIL
EXCLUSIVE SOLO & BUDGET TRAVEL INSIGHTS
A MONTHLY ROUNDUP NEWSLETTER
AND MUCH MORE…
THERE'S A FREEBIE WAITING JUST FOR YOU!
Activities/tours/excursions
Activities are fairly priced throughout Colombia but as with every country, you will need to shop around to get the best price and value for money for you.
However, there will be certain tours offered to you in hostels which can actually turn out to be more expensive. For example the Pablo Escobar tour in Medellin, the price will vary depending which hostel you book from and how in-depth you want the tour to be.
Colombia does well in offering a number of free tours as-well, In Bogota, you can choose from a free walking, bicycle or graffiti tour. They are good ways to find out more about the city but also get your bearings too.
If you are not heading to other South American countries, Colombia also offers tours into the Amazon Jungle.
If you're dead set on doing organised tours but feel haggling is too daunting for you with local operators. You can get an idea of prices or pre booked tours and excursions through reputable companies like Contiki and Intrepid travel – Or find specific trips through Get your guide. The banners below will take you directly to their sites.
With prices changing all the time, it would be unfair to try and give you specific prices or tell you how much you should budget for backpacking Colombia. However if you want to check out some live prices these two sites will give you a better idea: numbeo and expatisan.
Transport options for backpacking Colombia
As Colombia re-built itself into a modernized Country, the country's infrastructure was also hugely improved with numerous private and public transport systems put in place throughout the country so traveling Colombia is easy in that sense. However due to its terrain, sometimes what looks like a small trip can actually be a long arduous trip.
Flying domestically is a cheap alternative which saves time and your sanity. Getting around the coast and intercity is no problem with public transport. It's only when you want to travel through the heart of the country you need to make the choice of long bumpy bus journeys or a short flight.
For Example, Medellin to Bogotá is a horrible 9-hour journey by bus, a flight takes an hour and only costs a few pesos extra.
Bus – Reliable public buses running
Collectivos –  Mini-vans that wait until they are filled up and run certain routes
Taxis – Can be expensive and not always the safest option if not a registered taxi
Uber – Growing in popularity in Colombia
Trains – metro/subway operating throughout most major cities
Trams – Operate in a few cities

Cable carts

– Used in Cities like Medellin to get in and out of the favelas
Getting around nationally
Private bus companies – 2nd class, 1st class and VIP services available depending on your budget

Shuttle buses

– Minivans available for trips between towns and cities that are in close proximity

Domestic flights

– reasonably priced and efficient. Viva Colombia is your best option
Accommodation options for backpacking Colombia
With tourism on the rise in Colombia and rapidly growing in popularity with backpackers there are plenty of budget options, and while it's not the most expensive it will be a constant expenditure. If you're looking to stay in a hostel I highly recommend you looking around in the general area once you arrive as many hostels offer cheaper prices at the door.
If hostels are not your thing, then there are plenty of other alternatives while backpacking Colombia. Booking.com offers a wide range of accommodation options
Hostels – Range from quiet home like to party hostels. A mix of dorms and private rooms available. Comfort ranges from bare basic to hotel like quality.
–

Hospedajes

– smaller than hostels run by families.

Budget hotels

– Great to have some privacy and some much-needed air-con.

Couchsurfing

– Join the site and check whats available.
Airbnb – Lots of Colombians renting rooms out.

Workaways

– Live with locals in exchange for work.
Camping – A great option for national parks like Tayrona.
Looking for a hostel while backpacking Colombia? Use the Hostelworld form below to find your best option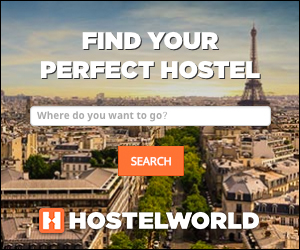 My overview of backpacking Colombia
I really didn't know what to expect when arriving in Colombia. I had heard good things, I'd done my research, read blogs but I didn't know if they were fluffing backpacking Colombia up. But after just one day, I had found a great hostel, a good group of people and felt at home as soon as I walked around La Candelaria in Bogotá.
La Candelaria became my home and hub between my travels through the country. I just loved the amazing street art, the bohemian lifestyle of the area, the nightlife and how it's pushed right up against the Mountains.
Backpacking Colombia was amazing, a friend of mine actually flew out from Australia to join me while I traveled around the country. I had some great experiences traveling through the country, a few downs but mainly it was all good. The highlights for me were Bogota, backpacking up the coast, and San Gil even with those crazy last 24 hours! Those last 24 hours in San Gil will stay with me forever.
I fell in love with the whole country, the people, the vibe, the infectious atmosphere and I would love to go back someday.
An interactive map of backpacking Colombia
If you're looking to go backpacking Colombia but not sure of the route to take, this map below shows my route, places I stopped, and will hopefully give you an idea of the best route for yourself.
Weather you would like to get informed on long-term solo travel or love reading travel stories of adventure, discovery & despair Amit has you covered. Check out his latest books

GET YOUR FREE LONG TERM TRAVEL PLANNING EBOOK
STRAIGHT TO YOUR EMAIL TO READ AT YOUR OWN LEISURE & ALSO RECEIVE A MONTHLY NEWSLETTER
DONT FORGET TO SHARE THIS BUDGET BACKPACKING COLOMBIA POST AND PIN FOR LATER