Sleepy as the Mekong river itself, stepping into Laos was like stepping into the land that time forgot.
This isn't your usual type of guide to budget backpacking Laos This overview doesn't tell you how to plan your itinerary, cover 'top 10 things to see and do', what to pack, or offer a dollar by dollar account on what to spend.
However, in this post we do cover and provide you some useful tips, and advice, things to be wary of while backpacking Laos, and practical information for everyday life while backpacking Laos.
Raw, basic, bare bones...Backpacking Laos isn't for the fainthearted
Backpacking in Laos isn't like many other countries, It's not your typical tourist or even backpacker destination, many choose to skip passed it. It's not Thailand, It's not overrun by western franchises and It's not geared for tourism. Laos is underdeveloped, It's a poor country but it has rawness, an energy that sucks you in.
It's hard to explain unless you experience it for yourself, I don't know what it was because Laos is:
Dusty
It's raw
It's bare bones
It's misty
Life moves at a snails pace
Untouched amazing wilderness,
It's breathtaking
As off the grid as you can get
So, if you're looking for a smooth ride well, then this is the wrong country for you. Things will go wrong and it will be a bumpy ride but there is a charm about the place, and there is a high chance of it capturing you and you falling in love with Laos.
One thing is for certain, backpacking Laos will be an adventure!
ON A PERSONAL NOTE
I once watched a documentary by the late Anthony Bourdain about Laos travel (Watch it here) and it intrigued me so much, right there and then I wanted to travel Laos. This was completely off the grid and I wanted – No; I needed to experience it myself!
In this country overview we are going to dive into and cover things you will need to know for everyday backpacking life: 
Basic information for backpacking Laos 
Visa options for backpacking Laos
Practical tips 
Things to be wary about 
Budgeting information for backpacking Laos
Local and national transport information
Accommodation options 
My personal experience of backpacking Laos
Interactive map of Laos
Some basics to know before backpacking Laos
Language spoken: Lao
Other Languages spoken: French,
Is English spoken: 

A little

Currency:

Lao Kip

National beer –

Beer Laos.

Backpacking in Cambodia is –

Very Cheap

To check live rates click here XE.com
Visa options for backpacking Laos
30-day tourist visas are issued on arrival for a cost – You will need a passport photo, at least 2 clear pages, and 6 months validity in your passport. Also, you will need the name of where you're intending to stay.
If you are looking to stay longer than 30 days you need to apply for a longer term visa at Laos Embassies.
(Note prices will have change since I backpacked Laos but the following sites will provide more information: Gov.uk or Laos visa guide 
Practical tips for backpacking Laos
Eat freshly made baguette's in Vientiane, You'll think you're eating them in France.
Have an open mind, keep patient, and learn to be calm when you travel Laos.
Like is the rest of South East Asia – haggle, haggle, haggle
Play the game of haggling, don't be rude – learn how to haggle well (post coming in the future)
Prepare for things to go wrong and transport to be late – Time is not important to the people of Laos.
Laos has so many hidden gems (Temples, ruins, waterfalls etc) – Don't be afraid to explore.
Renting a moped is cheap and a great way to get around but you will have to brave the potholes.
Don't expect good quality western food.
Don't expect any luxury, Laos is a world away from Thailand.
Watch a sunset along the Mekong River.
Be prepared for long bumpy journeys.
Sitting in the middle of the bus will be as comfortable as you'll be able to get.
Keep your belongings close and be mindful of them when on public transport.
Your clothes will always be dusty, even after you have them washed.
Beer Lao is the local beer and dirt cheap. 
Things to be wary of when backpacking Laos
Transport breaking down – It can be a common occurrence.
Tour touts and kids trying to get you stay at the guesthouse they work for. They get quite aggressive at times.
Young kids hounding you, they work in groups and will try begging even if they are not homeless. They just see you're a tourist and will ask for money.
If they hound you, be careful of your personal belongings, some will attempt to pickpocket you.
Buying tours and activities through your hostel – They receive commission and will mark up a price. You can find it cheaper looking for yourself.
Being overcharged at markets and stalls – Never accept the first price, it will always be too much, you have to haggle to get a fair price.
Tubing is not the booze crazed event it used to be – After some reported deaths, the old version was made illegal. You can still go tubing but there is no drinking on the river, you will have to stop at bars along the river.
Be careful, you might just fall in love with this country
If you feel like you need Travel insurance for Backpacking Laos, get a quote from World Nomads one of the worlds best travel insurance companies for backpackers.
Budget information for backpacking Laos
This stumped me, I wasn't expecting it but as underdeveloped and poor Laos is; it wasn't as cheap as Thailand – Make sense of that! This magical, sleepy country that has been hidden from the world led me on a path where I would run out of money later on in Vietnam.
Before you start panicking though I am talking in comparison to it's neighboring countries. So in terms of western prices and compared to South America Laos is still dirt cheap and a heaven for backpackers to travel on a budget. You just have to be a little more mindful of your spending.
Enjoying the post so far?
LET'S MAKE THIS EASIER
GET NEW BLOG POSTS STRAIGHT TO YOUR EMAIL
EXCLUSIVE SOLO & BUDGET TRAVEL INSIGHTS
A MONTHLY ROUNDUP NEWSLETTER
AND MUCH MORE…
THERE'S A FREEBIE WAITING JUST FOR YOU!
Activities/tours/excursions
You will save on your budget with activities and tours, Laos isn't a country packed with overpriced commercialized tourist attractions, so you're not going to be paying over the odds. Most the things you'll do in Laos will consist of wandering around and discovering them for free. There are parks, museums, and tours you can choose but they cost next to nothing.
If you're dead set on doing organised tours but feel haggling is too daunting for you with local operators. You can get an idea of prices or pre booked tours and excursions through reputable companies like Contiki and Intrepid travel – Or find specific trips through Get your guide. The banners below will take you directly to their sites.
With prices changing all the time, it would be unfair to try and give you specific prices or tell you how much you should budget for. However if you want to check out some live prices these two sites will give you a better idea: numbeo and expatisan.
Check whilst traveling long term in the future. 
Transport options for backpacking Laos
Transport and accommodation were a little more expensive than Thailand at the time, not by a significant amount but you could tell the difference. However like in every country you should look around locally for cheaper rooms.
There's no other way of saying this – Traveling Laos is a bumpy ride. When I say bumpy I mean you're going to come off some journeys thinking you've broken your ass cheeks. Moving around Laos is not going to be smooth but that's part of the charm – Everything is pretty basic and getting from A to B is an adventure in itself.
Songthaew – Get you around locally. (Like tuck-tuks)
Mopeds – Brave the potholes and rent a moped.
Public buses – Can be an adventure or nerve-racking.
Tractors with trailers – Small tractors pulling a trailer of locals.
Getting around Nationally
Private mini-vans – Safe and Cheap. (mainly used by tourists)

Coaches and sleeper buses

– 2nd class, 1st class, VIP and available (VIP here isn't so VIP)

Boat

– Travel slowly along the calm Mekong river. (You will be sitting on hard wooden planks with no cushion)
Accommodation options when backpacking Laos
Although there is a range of options for accommodation while backpacking Laos let's not get that confused with having luxury or too much comfort. With the country being quite basic, so is your accommodation options.  Find some deals through Booking.com 
Hostels: Widely available in the major cities where most backpackers tend to go.
Guesthouses: Very common in the cities and in towns.
Budget hotels: Slightly more expensive than Hostels but still very cheap
Homestays: Organised to stay with a local family, can be arranged by tour groups or through dedicated websites.
Hotels – The country budget backpackers can afford to stay in a hotel.
Looking for a hostel while backpacking Laos? Use the Hostelworld form below to find your best option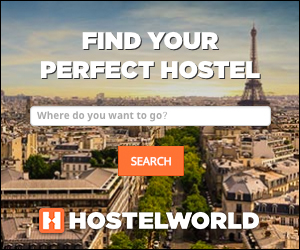 My overview of backpacking Laos
Backpacking Laos was everything I expected it to be, it was just as Anthony Bourdain had shown me on his documentary. But yet it still surprised me, there was still a culture shock, and it was the next step in my backpacking education.
The things I had learned in Thailand bode well for me through Laos, things like haggling and not expecting amazing western food. (There are times you just want a burger or a pizza)
It's quite difficult to put into words how I felt whilst backpacking Laos; this is a country I just connected with. There are some countries you go to and you feel one with that country like your body is in sync with it and Laos was that for me. Yes, I had an amazing time doing activities there but some countries it's not about what you see or do, it's just about how you feel at that time.
The only other times I've felt so much calmness and peace running through me is in the Sahara Desert and in parts of Portugal. Even though backpacking Laos wasn't a smooth ride, nothing could break the tranquility I felt and It's a country I could easily just dissapear in.
Interactive map of my route around Laos
If you're looking to go backpacking Laos but not sure of the route to take, this map below shows my route, places I stopped, and will hopefully give you an idea of the best route for yourself.
GET YOUR FREE LONG TERM TRAVEL PLANNING EBOOK
STRAIGHT TO YOUR EMAIL TO READ AT YOUR OWN LEISURE & ALSO RECEIVE A MONTHLY NEWSLETTER
DONT FORGET TO SHARE THIS BACKPACKING LAOS POST AND PIN FOR LATER