(Last Updated On: September 24, 2020)
Not your usual guide to backpacking Mexico
This backpacking Mexico post will give you a sense of what It's like to travel through this incredible and vibrant country. We're going to dive into some practical information, useful tips, and a few things to be wary of. This post also gives you a heads up on some basic information to know about backpacking Mexico, visa, transport, an interactive map, and accommodation options and my overall experience of backpacking Mexico.
However, this post doesn't tell you how you should plan your itinerary, it doesn't preach 'top 10 things you must see and do', what to pack, nor tell you how you should spend your budget. There are far too many posts that cover all that already available for you.
It's hard not to fall in love while backpacking Mexico
What comes to mind when you think of Mexico?
I'm guessing a lot of you might think of Aztec and Mayan ruins, Chichen Itza, Cancun, and tequila. Maybe it's American students going wild on spring break, maybe old dusty western style towns full of bandits and gunslingers, drug cartels or the infamous El Chapo…
…Well, Yeah, you're right, they do have all that but let me tell you there is so much more to this incredible country. Mexico is a huge shiny jewel for backpackers, it's just one of those countries that have a sprinkling of everything and you can't help but fall in love with it.
What tickles your fancy? …Amazing food? Incredible landscape? Pristine beaches? A Journey into history? Adventure? A vast wilderness? Dense jungles?
Everything you are looking for in a budget backpacking trip; you will find it backpacking Mexico. From start to finish it amazed me every day. There are some countries you can travel to once and say you've been there and done it all. Mexico is the opposite, I spent nearly 3 months backpacking Mexico and still don't feel like I've scratched the surface.
Basic things to know when backpacking Mexico
Language spoken:

Spanish

Other languages spoken: Spanglish

Is English spoken

:

Yes

..

Currency: Mexican

Peso

Backpacking in Mexico is:

Fair

To check live rates click here:

XE.com
Visa options for backpacking Mexico
British Tourists don't need a Visa, however, we do get issued with Tourist cards at airports with a rough idea of the length of stay.

Keep hold of these cards as you will need them when leaving the country. If you lose the card you will get fined when leaving the country (It's a big dent in your budget when you have to pay a fine)

For more info on this check

GOV.UKhttps://www.gov.uk/foreign-travel-advice/mexico/entry-requirements
To check your nationalities Visa requirements check here CIBTVisas
Practical tips for backpacking Mexico
It's good to learn some basic Spanish before getting there.
Forget trying to find a burrito (I found out the Burritos we know are an American invention – of course, they are!)
-Taco's sold on street stalls will become a staple of your diet, especially if your on a tight budget.
Mezcal is drunk more than Tequila and Mexicans don't drop lime into their corona; Who knew!
Prepare for fucking long journeys – Mexico is huge.
Mexico is generally cheap but touristy places like parts of Mexico City, Cancun, and Chichen Itza are grossly overpriced.

Even if you are not a wrestling fan, try and see a lucha-libre event (High flying wrestlers behind masks)

You can learn a lot about Mexican culture there
Book overnight buses a few days in advance to get a cheaper price.
If you're wanting to see ruins and temples, the lesser known one like Palenque are better and cheaper.
Mexicans, in general, are awesome people and very friendly unless you're American.
Try getting out to some of the lesser known mayan and Aztec temples, they are far better and you can explore inside them
Watch out for wildlife in Mexico, they do have some vicious and poisonous animals and insects
Mexico has so many hidden gems and natural beauty's, always talk to other backpackers and see what they've found.
It's hard to get bored backpacking Mexico
Try and get out to Canute's and sinkholes, if you've never seen them before they are amazing; You can dive and swim in some.
When Mexicans say 'Gringo' – They are only referring to Americans.
Playa Del Carmen is a much better party option for travelers on a tight budget – Cancun charges American prices.
Things to be wary of when backpacking Mexico
Although Mexicans are friendly, petty crime is rife in certain areas but not generally dangerous unless you go into cartel territory. Keep on your guard, don't make yourself a target by acting like a tourist.

Cartels do run through the north towards the border so be careful and take precautions if going that far up.

Keep your belongings safe and hidden, do not flaunt that you are a tourist.

Be extra careful on the Metro in Mexico City – A fellow traveler I was with got pick-pocketed as we got off the train because he wasn't being vigilant. (Stole his phone and wallet.)

Keep your belongings safe and close on bus journeys, although I never had any problems, I heard many horror stories from people who left there bags lying around on long bus-journeys. Most backpacker thefts are done on over-night bus journeys. You just have to keep your wits about you.

Armed Police will regularly board buses, don't be alarmed, 9 times out of 10 they don't even look at travelers if they do they will just check your ID and hand it back.

When on the Pacific coast waves in the sea can reach huge swells, if you're not a strong swimmer be careful.

Some of the more famous attractions of Mexico will charge you over the odds.

It is massively overpriced in Cancun – You will feel like you've left Mexico and stepped into the USA.
If you feel like you need Travel insurance for Backpacking Mexico, get a quote from World Nomads one of the worlds best travel insurance companies for backpackers.
Budget information for backpacking Mexico
The prices in Mexico vary depending on where you are, for Example, Mexico city is generally cheap except for the city center as it's a hot tourist area but once you're out of the city it becomes even cheaper. The Yucatan is generally the most expensive part of Mexico as its a favorite holiday destination for Americans. So when you're backpacking Mexico you will have to juggle your budget around. There were days I could get by only spending $10-15 but then other days I could end up spending $30-$40 – It's just a balancing act.
Mexico was my first stop whilst traveling Central America so it took me a few days to get my bearings budget-wise, to figure out where I could save on expenses.
Look for street vendors, taco stands, pizza slices, or visit the markets and local restaurants. Ask for "menu del dia" which is the menu of the day and normally come with a starter soup, a main dish and a drink which is by far the cheapest option and most filling.
Buying local beers cost pennies compared to imported beers and spirits. Tequila and mezcal come in different price ranges, the cheaper they are the nastier they are. Also if you're a smoker like me then buying cigarettes from the pop-up vendors is a lot cheaper than buying from stores.
Activities/tours/excursions
There is no shortage of things to keep you occupied throughout Mexico. Take your pick from Aztec and Mayan temples, learn their history, party with locals, ride some huge waves, dwell on white sand beaches, play with iguanas, go deep into the jungles and explore some incredible waterfalls, explore cenotes and sinkholes. Like I mentioned at the top, Backpacking Mexico is a goldmine for budget backpackers, that's if you are savvy around the overly 'tourist' things.
For example, 'Chichen Itza, a so called world wonder was stupidly overpriced and a huge let down compared to other mayan sites and temples around the country because It's the most famous and so popular with American tourists.
Other types of tours and activities around the country are reasonable but there's a lot of things you can do without having to book a tour and can get to places independently. Throughout the 3 months I was there I only did a few tours and mostly did activities independently and just paid for entrance fees. You will be able to find value for your money if you look and shop around locally.
If you're dead set on doing organised tours but feel haggling is too daunting for you with local operators. You can get an idea of prices or pre booked tours and excursions through reputable companies like Contiki and Intrepid travel – Or find specific trips through Get your guide. The banners below will take you directly to their sites.
With prices changing all the time, it would be unfair to try and give you specific prices or tell you how much you should budget for. However if you want to check out some live prices these two sites will give you a better idea: numbeo and expatisan.
Transport options for backpacking Mexico
The two main expenses backpacking Mexico will be accommodation and transport. Just like every country you should shop around, you will find cheap options but it's a constant expense.
With Mexico being such a huge country, far bigger than I realized. Due to its mountainous terrain through the heart of the country, there will be a huge amount of traveling, places that look close on a map can take hours to get to. Although there are smooth highways and developed roads, just the sheer length of time it takes to get from one place to another can take it's toll and is probably the hardest part of traveling Mexico.
Getting around locally
If you're traveling locally during the day, for the cheapest options in major cities you can use metros, subways and local buses but outside the cities 'Collectivos (Shared minivan transport) and chicken bus (old American school buses converted into public buses, an adventure in itself) are your best options.
Another thing you should be prepared for, and this is throughout Central and South America is armed police boarding the bus to check ID's of passengers. This is more aimed at locals that shouldn't be on the bus the police largely ignore the travelers but there might be the odd time they check yours too.
Be careful of Taxi's, they're known to rip tourists off.
– Buses – The bigger cities have a good network of buses to get you around locally.

– Metro – Very easy to navigate and very cheap. (Run within major cities like Mexico City)

– Chicken buses – Old American School buses converted into local public buses. (Don't be surprised to see livestock on these)

– 'Colectivos' – Mini-vans that wait until they are filled up and run certain routes.

– Taxi – Expensive and not always metered (If not on the meter negotiate the price before getting in.)
Getting around nationally
Transport costs will eat at you while backpacking Mexico, so It's wise to choose to travel overnight to so you save on rent. Overnight buses are generally the most common way to get around, budget overnight buses are very basic and can turn into a nightmare, mid-range (1st class but still quite cheap) offer more comfort and some coaches will actually give you a free meal on board during the journey.
Granted some will be more basic than others but it's a free meal. To give you an idea, one journey I got just biscuits and a bottle of water, others I got given a small meal like I was on a flight and I once even got fed a McDonald's.
It's best to try and book your ticket in advance, especially to popular destinations but there are some companies you can just turn up to the terminal and buy a ticket on the spot.
– Bus/Coach – Mainly used for trans-country journeys, TICA-bus, ADO, are popular (and serve you food)

– Private shuttle mini vans – buy a ticket and hop on at a terminal to your destination, pretty cheap and safe.

– Flying – Mexico has domestic airlines and is possible to fly around if you can afford it.

– enting cars – Is possible if you have an international license. Just be careful with crazy Mexican drivers.
Accommodation options for backpacking Mexico
With Mexico geared towards tourism much more than I anticipated there are plenty of options to chose from. Most backpacker hostels are reasonably priced, with dorm rooms and private rooms available. You will find quite a range of hostels on booking sites like Hostel world and booking.com but you will find a wider range of hostels walking around as a lot of them won't advertise on booking sites.
If backpacker hostels are not your thing, or you just want something to yourself then there are plenty of other budget options available too. Do make sure to do some research first as some places advertised can turn out to be scams.
Check through Booking.com for some amazing deals
– Hostels – Mix of dorms and private rooms, range from quite to party hostels – great social hubs to meet other backpackers.

– Budget hotels – Reasonably priced but not always in the best condition.

– Love hotels – Rent rooms out for the amount of time you want to be there. (They are what they are)

– Airbnb – Becoming quite popular in Central and South America.

– Couchsurfing – Stay with locals and experience Mexico from a different perspective.

– Workaways – Exchange a bed for work with locals or in a community.

– Camping – camp under the stars on the beaches or in national parks.
Looking for a hostel while backpacking Mexico? Use the Hostelworld form below to find your best option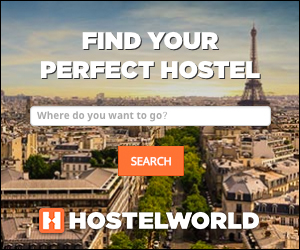 My overview of backpacking Mexico
I have to say backpacking Mexico was just so much more than I anticipated it to be. I won't lie, it blew me away, I fell in love with it and it rose to one of my favorite countries I've backpacked.
The three months I spent backpacking Mexico, was nowhere near enough, I feel like I have only scratched the surface; I need to go back and explore and see much more. I don't want to make it sound fluffy but I can't help it, apart from Cancun nothing can put me off backpacking Mexico again. Yes, I did get fed up of eating taco's by the end of the trip but that's no biggie. In my eyes the country is amazing, the people are friendly and welcoming and there is just so much to see and do.
Mexico was the place for a number of firsts for me too, I got to experience my first Lucha-Libre wrestling event which was just a spectacle. There was my first time seeing sinkholes, the first time I drank Mezcal and there were a few other firsts that I can't really mention.
Mexico was the first stop on my Central America trip, I walked in only being able to say 'Olla', 'Ce, and 'cepasa' I left Mexico 3 months later with a general grasp of Latin Spanish. I had witnessed some amazing places, discovered so many hidden gems, felt the charm and warmth of incredible people and left with a huge respect for Mexico and Mexicans.
Would I go back to Mexico? Without a shadow of doubt! There is so much left to explore.
An interactive map of my route backpacking Mexico
If you're looking to go backpacking Mexico but not sure of the route to take, this map below shows my route, places I stopped, and will hopefully give you an idea of the best route for yourself.
***
How did you find this latest post from Forever Roaming the World, I'd love to hear you thoughts on it, just pop a comment below. If you enjoyed this post don't forget to share it around with your friends.
CREATE YOUR FUTURE TRAVEL RIGHT HERE ON FOREVER ROAMING THE WORLD, I'VE GOT YOU COVERED
HAVING LONG TERM BUDGET TRAVELED SINCE 2010, I KNOW WHAT IT'S LIKE TO PLAN AND BOOK A TRIP ON THE TIGHTEST BUDGETS. THE SITES AND TOOLS LISTED BELOW ARE MY TRUSTED GO-TO SITES, FOR EVERYTHING I NEED.

PLANNING: USEFUL BUDGET TRAVEL WEBSITES – THIS PAGE LISTS OVER 100 WEBSITES AND APPS TO HELP WITH RESEARCH
IF YOU NEED HELP WITH PLANNING AND RESEARCHING, THIS STEP BY STEP PLANNING AID MAY JUST BE WHAT YOU NEED
FLIGHTS: WHEN IT COMES TO SEARCHING FLIGHTS, I FLITTER BETWEEN SKYSCANNER AND E BOOKERS UK FOR THE BEST PRICE AND FLEXIBILITY AND BECAUSE I KNOW THEY'RE RELIABLE
IF I'M TRAVELING LOCALLY AROUND EUROPE THEN EASYJET IS MY FAVOURITE RATHER THAN PLAYING RUSSIAN ROULETTE WITH RYANAIR
ACCOMMODATION: THOUSANDS OF US BUDGET TRAVELERS BOOK OUR HOSTELS AND ACCOMMODATION THROUGH THE WORLD'S MOST POPULAR HOSTEL BOOKING SITE HOSTELWORLD, OR BOOKING.COM. FOR OTHER ACCOMMODATION WHEN I LOOK FOR A PLACE TO MYSELF I BOOK THROUGH AIRBNB
TOURS/ACTIVITIES: ONE THOSE RARE OCCASIONS I DECIDE TO DO AN ORGANISED TOUR OR EXCURSION I WILL BOOK THROUGH CONTIKI AND INTREPID TRAVEL. BOTH ARE VERY RELIABLE, GREAT COMPETITIVE PRICES AND A CHANCE TO MEET OTHER TRAVELERS
TRAVEL INSURANCE: SOME DON'T LEAVE HOME WITHOUT IT, OTHERS THINK IT'S A NUISANCE. I BUY TRAVEL INSURANCE DEPENDING ON THE TRIP, AND WORLD NOMADS FOR ME ARE THE MOST COMPREHENSIVE FOR LONG TERM TRAVEL
TRAVEL PRODUCTS/READING MATERIAL: OF COURSE IF EVER YOU NEED TO BUY ANYTHING THE FIRST PLACE I LOOK IS WITH AMAZON, AND FOR READING I HAVE MY KINDLE UNLIMITED
Want to continue your journey with Forever Roaming the world but not sure where to go? Simply jump over to the Start here page and I will gladly guide you through the site.

WANT TO JOIN THE COMMUNITY? SIMPLY POP YOUR EMAIL INTO THE SIGNUP FORM BELOW AND RECIEVE YOUR FREE STEP BY STEP BUDGET TRAVEL RESEARCH AND PLANNING AID

Don't forget to pin Backpacking Mexico