There's one thing that jumps out at you instantly when backpacking Vietnam; the crazy traffic! You will have never witnessed anything like it.
This isn't your usual type of guide to budget backpacking Vietnam. This overview doesn't tell you how to plan your itinerary, cover 'top 10 things to see and do', what to pack, or offer a dollar by dollar account on what to spend.
However, in this post we do cover and provide you some useful tips, and advice, things to be wary of while backpacking Vietnam, and practical information for everyday life while backpacking Vietnam.
Backpacking Vietnam will blow your mind...For better or worse!
The sea of endless mopeds will be the first thing you notice and the first thing to blow your mind but as the locals say It's just organized chaos.
It really doesn't matter if you start in the north or in the south; it's the first thing you'll need to get your head around. You'll see first hand how people are constantly on the move, the roads are never quiet especially in the cities. Don't worry though after a day or two (or four) your brain will unscramble and you'll learn how to navigate the roads (It's quite fun.)
The crazy traffic just represents just how crazy and chaotic this country is from top to bottom. 24 hours a day, constantly on the go. 
Vietnam will blow you away one way or the other with: 
World wonders

The most bizarre things you will ever witness

Deep history

Ancient temples 

Jungles

Wildlife 

Beaches

Organised chaos

Jaw dropping rugged interior, and the

The Mighty Mekong river flowing through it
If you mixed up everything you could imagine from beauty to the most bizarre things you can think of mix it all up, Vietnam is what you will come out with. This country has everything and for budget backpackers It's dirt cheap.
Budget backpacking vietnam
In this country overview we are going to dive into and cover things you will need to know for everyday backpacking life: 
Basic information for backpacking Vietnam 
Visa options for backpacking Vietnam
Practical tips 
Things to be wary about 
Budgeting information for backpacking Vietnam
Local and national transport information
Accommodation options 
My personal experience of backpacking Vietnam
Interactive map of Vietnam
Basic things to know before backpacking Vietnam
Language spoken: 

Vietnamese.

Other Languages spoken:

French, Khmer (Cambodian)

Is English spoken:

Yes (Becoming the second language)

Currency: Vietnamese

Dong

Backpacking in Cambodia is – 

Cheap

To check live rates click here XE.com
Visa options for backpacking Vietnam
British nationals wanting to go backpacking Vietnam for 15 days or less do not need a visa to enter Vietnam. (until June 2017)
If you're looking to be in Vietnam for more than 15 days you need to apply for a tourist Visa. Can be done online, or at a Vietnamese Embassy (I did this in Laos). It takes a couple of days for the authorization number to return. At the border, you will receive you 'Visa on arrival' with an entry stamp and payment stamp. At land borders, you will need to show proof of onward travel (even an itinerary)
For more information see her: Vietnamese Visa or Gov.UK
To check your nationalities Visa requirements check here CIBTVisas
Practical tips for backpacking Vietnam
The traffic will blow your mind, however, bare in mind when you cross a road, just walk, don't think about it, don't hesitate – Just walk, the mopeds will go around you. If you panic or dither, you will make them panic and that causes accidents
You will quickly realize footpaths are not for walking in Vietnam, they are for mopeds to park
Vietnamese food is amazing, try everything – If you're not sure what it is but it tastes good, just eat it; it's safer to just not know
Eat at one of the countless self-cook BBQ stalls – Table and seats are tiny but you get a mini BBQ (just order what meat and/or veg you want and cook it yourself to your own tastes
There are countless bizarre tours and trips you can take; like going up to snake mountain and drinking snake blood
They eat everything and anything in Vietnam, bones included
If you do a river market tour (Best to do in South like in Can Tho)  go before the sun rises to get the best experience. (Waking up at stupid O'clock is worth it for this.)
There is so much to explore in Vietnam. You can rent motorbikes and have motorbike guides to take you through the epic mountain ranges
World wonders such as Halong-bay will be overrun by tourists
Take warm clothes for overnight bus rides. (they get like to blast the air-con at night)
Take snacks with you for overnight bus journeys
Don't be surprised to see parts of Vietnam overrun by Russian's
You can use both American Dollars and Vietnamese Dong in most places
Things to be wary of when backpacking Vietnam
Tour touts will harass you constantly.
Locals selling fruit and veg will let you pose for a picture with them and even encourage you – But then will demand money from you.
Beggars are everywhere and constantly be asking for handouts. However, if you if you do give them something, they will ask for more.
Some locals may seem friendly to begin with but on occasion they're looking to scam you as a tourist
Hygiene isn't the best, especially in open meat and veg markets
Keep your personal belongings safe in public areas and on public transport. Pickpocketing is common.
If you pay with American Dollars, you will receive change back in Vietnamese Dong, and not at the correct exchange rate. Be careful of this. try to pay in Vietnamese Dong for small purchases even if they insist on American Dollars.
Locals love drinking rice wine – You will be invited to join, it's a slippery road…Just sayin'.
If you feel like you need Travel insurance for Backpacking Vietnam, get a quote from World Nomads one of the worlds best travel insurance companies for backpackers.
Budget information for backpacking Vietnam
Vietnam is by far one of the cheapest countries for budget backpackers, much cheaper than Thailand or Bali. Your tight budget will stretch further here.
Vietnam is a country where you can mix up eating locally and in restaurants, or staying in hotels over hostels all the time without the risk of blowing your budget. That's if you've not already blown your budget before you arrive like I did.
Food and drinks is an area you will have to be wary of, the food is very cheap but it's delicious so there is a risk of wanting more and more and overspending. There are so many options, and you can have a field day with street food like bhan-mi sandwiches, eating at local noodle houses, the countless night markets or the street self-cook BBQ's.
Enjoying the post so far?
LET'S MAKE THIS EASIER
GET NEW BLOG POSTS STRAIGHT TO YOUR EMAIL
EXCLUSIVE SOLO & BUDGET TRAVEL INSIGHTS
A MONTHLY ROUNDUP NEWSLETTER
AND MUCH MORE…
THERE'S A FREEBIE WAITING JUST FOR YOU!
Activities/tours/excursions
Most of the things you do and see in Vietnam will be very cheap outside of the major tourist spots in the town main cities of Hanoi and Ho Chi Minh. There are places that will ask for entrance fees but pay in local currency rather than American dollars because they will rip you off.
Remember to haggle if you choose to go for organised tours, they like the rest of Southeast Asia will start at a ridiculous price It's up to you to get it down to a more reasonable one.
If you're dead set on doing organised tours but feel haggling is too daunting for you with local operators. You can get an idea of prices or pre booked tours and excursions through reputable companies like Contiki and Intrepid travel – Or find specific trips through Get your guide. The banners below will take you directly to their sites.
Vietnam also offers am abundance of things to do for free, because of my dire financial situation, I had to get creative and seek out a lot of free things to see and do.
If you love chasing waterfalls you can do it in Dalat, This post by Mike from live, travel, teach shows you his recommended top 3 waterfalls 3 must see waterfalls in Dalat
With prices changing all the time, it would be unfair to try and give you specific prices or tell you how much you should budget for. However if you want to check out some live prices these two sites will give you a better idea: numbeo and expatisan.
Transport options when backpacking Vietnam
Transport will burn a hole through your pocket in no matter what country you backpack through. It's a good idea to take overnight sleeper buses, though not the most comfortable and you won't get much sleep but they will help on a nights rent. Try taking local transport (go on do it) if you want an even cheaper option.
Traffic in Vietnam is insane, getting around within cities and towns can be a challenge physically, mentally and for your sanity. However, once you are traveling out of the cities to your next destination you can enjoy some quieter journeys (not smoother) and take in the scenery. This might be a surprise to you but as in all South East Asian countries, not everything runs on time or smoothly. Like Thailand, Vietnam is used to tourism so there are plenty of transport options to get you around.
Pedicabs

– Bicycle rickshaws

Tuck-Tucks

Mopeds

– Join the never-ending mopeds and scooters on the road.

Local buses
Getting around nationally
Coaches/ Sleeper buses – 2nd class, 1st class, VIP and premium (Depends on your budget)
Trains – Overnight sleeper trains available
Motorbike – Rent your own or hire one with your own personal rider
Private shuttle vans – Safe and cheap
Accommodation options for backpacking Vietnam
There's a blurred line in terms of types of accommodation for budget backpackers in Vietnam. It's not so easy to categorize as guesthouses can be more like hostels. Hostels are more likely to have private rooms as dorms are not that popular except for in a few dedicated backpacker hostels. Finding Accommodation is fairly simple though, as anybody with a spare bedroom will put a sign up to say they're a guesthouse. In Vietnam, it is best to walk around and shop around for the best price and facilities.
There is a wide range of accommodation to chose from and there are some very cheap and basic places for just a couple of dollars night but they can be grotty, smelly and infested with bugs. Normal price range for hostels and guesthouses can range between $5-$10 a night. Find good deals through Booking.com 
Hostels

– A few dedicated backpacker hostels with dorms in the cities.
Guest houses – Everywhere, packed within alleyways, on main roads, joined to tour shops, anywhere that has a room to rent.
Budget hotels – All over the place but watch out for scammers and grotty places.

Hotels

– Bit more expensive than the rest of South East Asia.

Workaways

– Stay with a local family, learn and see from a local perspective.
Looking for a hostel while backpacking Vietnam? Use the Hostelworld form below to find your best option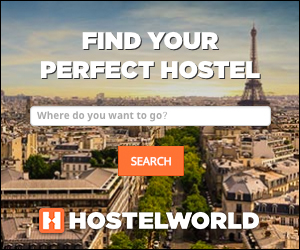 My overview of backpacking Vietnam
 Vietnam was just one of those countries I didn't connect with. My headspace was just wasn't right, My financial situation was fucked up but mostly I think it was because I had such a magical time in Laos. Vietnam was like my comedown country and I just didn't connect with it.
However that's not to say it was the worst country I've backpacked through, there were some highlights and good times. Without a doubt Vietnamese food was amazing, some of the sights, scenery and places I experienced were something else. But I did find Vietnamese people to be the rudest I encountered through Southeast Asia, and places were too overrun by tourists.
An interactive map of my route backpacking Vietnam
If you're looking to go backpacking Vietnam but not sure of the route to take, this map below shows my route, places I stopped, and will hopefully give you an idea of the best route for yourself.
GET YOUR FREE LONG TERM TRAVEL PLANNING EBOOK
STRAIGHT TO YOUR EMAIL TO READ AT YOUR OWN LEISURE & ALSO RECEIVE A MONTHLY NEWSLETTER
DONT FORGET TO SHARE THIS BACKPACKING VIETNAM POST AND PIN FOR LATER