(Last Updated On: September 24, 2020)
Solo backpacker lessons learned from mistakes & experience
Since 2010, I've gone from a novice to experienced solo backpacker. There have been many solo backpacking lessons along the way.
Long term solo backpacking, for me, is incredible, It's changed my life for the better and the biggest education I've ever had. And, it's not just me, there's millions of us long term solo backpackers who love it. I'm sure while you've been doing your research, trying to decide if long term solo backpacking is for you, you've seen, read and watched countless blogs, vlogs and articles on solo backpacker tips right?
How is that research going? Do you feel prepared for life on the road living out of your backpack? Can you envision being a solo backpacker? Just you and the open road, experiencing amazing places, cultures and people all over the world? Yeah you can see it right, I bet you're excited and smiling at the thought of it.
Or are you on the flip side, do you feel underprepared to be a solo backpacker? Maybe anxious, nervous or even scared about taking that first daunting step alone? If you are, don't worry you're not alone. This post is for you, offering you some valuable solo backpacker tips & lessons.
Solo backpacking lessons: Your education starts
All of us long term solo backpackers have been in your position once. It doesn't matter if you feel excited or scared, long term solo backpacking will be a step into the unknown. And, it doesn't matter if you think you're prepared for it.
What I mean is, no amount of planning, or research will truly prepare you for long term solo backpacking life. Sure you might have your route and plan sorted, what type of transport you'll take, where you want to stay and what you want to see and do. But the everyday solo backpacking life, that will be an education.
For your first trip no matter how confident or fearful you are, you will be a novice, newbie solo backpacker. But through your trip you'll gain experience, and over time, the longer you travel it will turn you into a seasoned solo backpacker.
That's what this solo backpacker post is all about. To show and give you an insight into how you'll learn to do things differently with experience, learn from your mistakes, and have a better understanding of certain dynamics about solo backpacking life.
Wide eyed newbie to seasoned solo backpacker
Before we get stuck in though, if you're a new reader you might be wondering who am I to give you solo backpacker tips or give you an insight into solo backpacking life.
Well, first and foremost, I'm a long term solo backpacker. I first packed my bags in 2010 and solo backpacked, lived, worked, partied, fucked up, made bad decisions, and mistakes all over the world continuously until 2016.
Finally I got homesick, took a year away from solo backpacking, but then got back on the horse in 2017. I started solo backpacking again and still going to this day but with much more experience because of the solo backpacker lessons I've learnt.
With that said wanna dive into this?
Solo backpacker tips: Prepping your solo backpacking trip
As novice solo backpackers we tend to research and plan and in some cases over plan our first few trips, we don't want to leave any stone unturned. However, the more experienced we get, we know how plans can change on a whim, so while we still research places there is less actual stone wall planning. Sometimes it gets to a point where we just grab our bags, book our tickets and head off to our next destination.
Over the years the less actual planning I do the more I find out, figure out and prep a few important basics beforehand Through experience, you just know what to do, of course there might be a few tweaks depending on the destination and how familiar you are with the region. Having got to know a lot of solo backpackers over the years, many of us seem to do it.
Here's some solo backpacker tips for when you get a little experienced and comfortable traveling solo.
If you're traveling to a destination that doesn't speak your language, try and learn a few basic local words beforehand. You don't have to be fluent, but just trying to speak it goes a long way with locals, and they will be far more willing to help you. Don't underestimate the power of trying.
Money, if you can, change a small amount of money into local currency. This will help when you arrive at your destination for transport and also you don't get stung by high exchange rates at airports. Also you don't want to carry too much, flashing wads of cash makes you a target for pickpockets.
Figure out if your destination is mainly cashless now, or still persist on money.
Check out the best Sim cards for your phone, you can normally pick them up from stalls in Airports/train stations or bus stations. Just do a bit of research beforehand into which will give you best value and most data. That was when you arrive, you can save a lot of time and just pick it up straight away. If you're on a contract, simply check if your destination is covered in your roaming.
Figure out what mode of transport is the cheapest and safest to your accommodation. I.E a tuck-tuck compared to the tocal bus – note: In some countries taxis are cheaper but more dangerous ( Private taxi's like Uber or Grab are much safer, cheaper and less likely to rip you off).
If you do want to take a Taxi, find out which are registered and not scam-artists beforehand (there's a lot of them especially around Airports). If you go for the bus, try to find out which route the bus takes; nothing worse than arriving in a new country missing it or getting on the wrong one because you didn't read the timetable or were misinformed
Have a screenshot of the route to your accommodation handy. It helps to get there quicker, but also you know if your taxi/tuk-tuk/bus is going off route and not deviating.
Book a night or two in your accommodation in advance. I've learnt over the years not to book much in advance, as I might not like the place. The only time I do is when I first arrive in a new country or region but only for a night or two.
Try your hardest not to look like a tourist – The more you look like a tourist the bigger the target you look like.
Not sure where to book your accommodation from? HostelWorld and Booking.com are two of the biggest and trusted booking sites in the world offering affordable prices.
Long term solo backpackers learn to keep plans loose
As I mentioned above, the longer and more experienced you get, the less likely you're going to actually have a stone wall plan. The reason though? Well from your very first trip you're most likely to find out plans can change and turn into dust just like that. It's one of the biggest solo backpacking tips I can give; Don't over plan!
Before we carry on with this point, remember I'm talking about long term solo backpacking, not a few days or a couple of weeks type of trip. I mean those of us who travel for months and years on end. I understand those with short timeframes having the want and need to cram as much in as possible, but if you try and do that as a long term solo backpacker, you will just burn yourself out. Long term solo backpacking is a marathon not a sprint. No need to be in a rush to do anything.
That's not to say all long term solo backpackers completely discard having plans, there is nothing wrong with that, just keep it loose and flexible. You never know what will pop up, how your plans can change. You could meet somebody and your trip goes in a completely different direction, if you're like me, end up in a different continent, you might fall in love with your destination and stay longer than anticipated. There are so many different variables.
You shouldn't get planning confused with researching though. While it's good to keep your plans loose, good research into your destination will be a big help to your trip. Researching about your destination gives you a good insight, so if plans do change, if you go of course you're still in the know. And good research helps prepare you for any mishaps or surprises along the way.
Solo backpackers learn to Pack light but pack accordingly
I'm 100% sure, you've probably seen this in every solo backpacker tips you've read. The thing is we've all fallen into the trap of overpacking for our first trip; no matter how light we think we've packed. This is one of those solo backpacker lessons you can only figure out for yourself. You'll know if you've overpacked or not.
Just to entertain you though, this is how it could go down. You think you've only packed the essentials. But, as your trip starts, you'll realise you don't need this, you don't need that, why did you think that was essential. As you move around, you'll leave a trail of items you've ditched. That bulky lonely planet book weighing your bag down will be the first to go. Then you'll accidentally on purpose leave items of clothing as you move place to place.
But here's the thing, the more you ditch, the better it will feel, but you'll still want it to be lighter. You get to a point where you have to stop, knowing you need to keep what you have. The worst though is if the weather changes, and you need something that you ditched weeks ago.
So how do solo backpackers win this battle? You have to pack accordingly. Go back to your research, check out what type of weather season you'll be traveling through. Of course for us long term solo backpackers, that's not so easy. So a solo backpacker tip is balance it out. Be prepared for all weather, but don't overstuff with two of everything.
You'll master it at some point, but what to pack will be one of your biggest long term solo backpacking lessons.
Booking hostels
I touched on this earlier in my prepping list, but the more I've backpacked the less I book hostels in advance unless It's my first night or two in a new country. This was actually one of the valuable solo backpacking lessons I learnt from more experienced backpackers in my early years.
The reason I don't book in advance is a lot of backpacker hostels especially in more 3rd world countries don't advertise on booking sites. You can find some amazing hostels for cheaper than the ones advertised by just walking around the area.
You learn there's nothing worse than pre-booking a hostel for a while and end up hating the place. It might turn out to be grotty, it might not be your type of hostel but if you've paid up then you're stuck there.
Book your hostel with hostel world, just click on the banner below

Of course backpacker hostels are not your only choice for accommodation. This post different backpacker accommodation options explains what variety you have.
Backpacker hostel life
For those of you who have never stayed in a hostel before, take it from me, your perception of them will change once you do. Hostels can become more than just a place to sleep, believe it or not, they can actually be integral and in some ways shape how your trip turns out. This post getting used to hostel life, will show you what I mean. And this one will give you an idea of Different types of hostels.
A few things you should know: They are generally safe places, they are not hotels so don't expect hotel quality and remember you're paying for the bed, not for the room. Yes, you have to share spaces and equipment, fridge spaces, sockets etc. In most cases staff are other travelers working for their rent, they are not your maids or servants and might not know everything about the local area. It's good to know some hostel etiquette before you stay in one.
Have an open mind when staying in hostels, they can be real eye-openers. You will see and hear all kinds of things but you shouldn't judge. Hostels are also in most cases very social places and don't be surprised to make friends very quickly.
Find out about the backpacker hostel trap.
Solo backpacker tip: Be prepared not to be prepared
When you're a newbie solo backpacker, you think you have all your bases covered and that you're prepared for all eventualities but you're not. This is one of the reasons, you keep your plans as loose as possible. As I mentioned before things happen, circumstances change, situations occur, something can just pop up out of the blue and knock you out of your socks. It could be anything.
No amount of planning and researching can prepare you for it. And the more experienced you become the more you expect spanners to be thrown into the works. The unexpected will and can happen. Your accommodation might not be what you thought it would be, transport issues, food, an accident, a world wide pandemic (we've all experienced lockdown during Covid-19).
However the unexpected isn't always negative, you might not be prepared to fall in love with your destination or the people you meet. fellow travelers may introduce you to a hidden gem, you might find it yourself, there could be an impromptu carnival or festival going on (it happens.) It could be anything.
The actual traveling – Getting from A to B to Z
As a newbie solo backpacker the actual traveling, getting from one place to another can be quite the adventure. Sometimes the journey is better than the destination. However there are things you have to get used to. This obviously differs from country to country, and depending what their infrastructure is like one word becomes more relevant than others: Patience.
In some countries you will need to get used to constant delays, long gruelling trips, I'm talking 5, 10, 15 even 30 hour trips. If you're from a place where 20 minute rides are long these trips will be a test of your patience to begin with. Then there are night buses. When you first start backpacking you think It's a great idea to take them, after all it saves you on a nights rent.
Very quickly though, you'll realise you get zero sleep on them, how bus drivers seem to love blasting the Air-con at 4 in the morning instead through the day when it's unbearably hot. Or, if you're lucky and do fall asleep you'll just be woken up by some crazy dance music pounding at 6am.
However those massive journeys just become normal, you'll have your own way to deal with them I.E sleeping through them, reading, or doing some work. You'll also have a better idea of what type of transport to take. Sometimes cheapest isn't the best option.
Roadside issues
The more you travel, the more you'll start to get used to constant break down, lateness, sometimes the vehicle just not turning up, flight delays and cancellations, even train just going missing. At first it's frustrating but after you experience it a few times you just laugh it off, there's nothing you can do about it.
One thing that might just shock you when you first start is police checks on transport. You will get some countries where armed police enter the bus, ask for you ID but it's harmless. They're just looking for illegals in their country and 9 times out of 10 wont bother with you. Never the less it does get the nerves jangling the first time you experience it. Again with some experience of it, you'll hand over your ID without even glancing once you're used to it.
Solo backpackers need to be wary of pickpockets
Also you have to be on your guard, there will be pickpockets around at times, especially on busy metros/subways. In some countries, children begging will work in groups and try to nip your belongings out of your pocket, or crawl under your seat and steal things from your bag. These things happen Sometimes as a newbie you're a little naïve to these situations.
However at the time as being on your guard, It's important not to be overly paranoid because that makes a prime target. It's both ends of the scale, the more naïve you look and the more paranoid you look you make yourself visible as a target.
Over time, with experience, you'll learn to act casual while still keeping a vigilant eye on your personal belongings. You learn to get a feel for it, you'll notice your eyes will be clocking and looking out for pickpockets naturally without making it obvious. And just with wear and tear of being an experienced seasoned solo backpacker, you'll blend in more.
Are you looking at getting Travel Insurance for your journey? many backpackers all over the world use World Nomads as It's one of the most trusted travel insurance in the world and a company I've used in the past when I've taken it out. (The banner below will take you directly to their site.)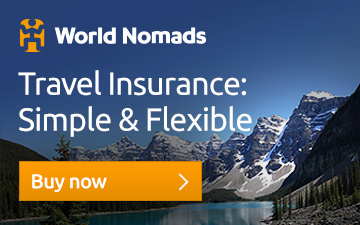 Day to day life as a solo backpacker
Something you just don't hear about, it's not in any solo backpacker tips is about everyday backpacking life. Not everyday is an adventure. There will be days you do nothing. As a newbie sometimes you feel you need to do something, that you're wasting days by not doing anything.
However the longer you travel, the more experienced you become, you learn to appreciate those days. You use those down days to reset, research about a new place, catch up with people from back home, recharge the batteries, you just relax. There will be days where the most exciting thing you do is your laundry or go to the market for groceries. The longer you travel the more normal your surroundings get, and you might even find there will be times if there is a toss up for doing an excursion or doing nothing; you'll choose to do nothing.
Long term Solo backpacking is an Emotional rollacoaster
You don't really think about it too much when you start solo backpacking, you're wrapped up in a ball of adrenaline, excitement laced with some fear. Those emotions carry you through until you start to settle but then different emotions start to penetrate through. It's different for everybody, but some are happy, some content, some get home sick and feel sad. These are things all backpackers have to deal with, and each individual deal with them in their own way.
Over time, the more experienced you become more aware you'll be that long term solo backpacking isn't a holiday. It can be a grind at times. It can be gruelling, you will endure a range of emotions, and get pulled in so many different directions mentally. There will be days you want to give up and go home but you'll also know those feelings, and days come and go.
I've met people who couldn't take it, it was just too difficult for them to cope with and decided to go back home. At the end of the day, long term solo backpacking especially on the tightest of budgets isn't for everybody. However if you get into a state where it becomes too difficult, if you can see it through I can't express how life changing going through that experience can be; for the better. You come out of it as a different person, stronger, braver and full of amazing memories.
There have been times I've had to learn some harsh solo backpacking lessons, days I've wanted to just give up, felt frustrated, sad, angry, I've ran out of money, felt depressed and times I've felt so lonely. But that want, and love for solo backpacking kept me going, helped me scratch and claw out of those situations and into the happiest and most incredible times. Sometimes you have to go through the shit to smell the roses.
Long term solo backpacking will test your character, there will be times it forces you to look deep within yourself, to dig deep. It will help you grow, provide so many life lessons not just backpacker lessons that you'll carry with you for the rest of your life.
You may have noticed I have not talked about feeling lonely as a solo backpacker, I have a full post on feeling lonely as a solo backpacker if you'd like to see the ways we're able to cope with it.
***
How did you find this latest post from Forever Roaming the World, I'd love to hear you thoughts on it, just pop a comment below. If you enjoyed this post don't forget to share it around with your friends.
CREATE YOUR FUTURE TRAVEL RIGHT HERE ON FOREVER ROAMING THE WORLD, I'VE GOT YOU COVERED
HAVING LONG TERM BUDGET TRAVELED SINCE 2010, I KNOW WHAT IT'S LIKE TO PLAN AND BOOK A TRIP ON THE TIGHTEST BUDGETS. THE SITES AND TOOLS LISTED BELOW ARE MY TRUSTED GO-TO SITES, FOR EVERYTHING I NEED.

PLANNING: USEFUL BUDGET TRAVEL WEBSITES – THIS PAGE LISTS OVER 100 WEBSITES AND APPS TO HELP WITH RESEARCH
IF YOU NEED HELP WITH PLANNING AND RESEARCHING, THIS STEP BY STEP PLANNING AID MAY JUST BE WHAT YOU NEED
FLIGHTS: WHEN IT COMES TO SEARCHING FLIGHTS, I FLITTER BETWEEN SKYSCANNER AND E BOOKERS UK FOR THE BEST PRICE AND FLEXIBILITY AND BECAUSE I KNOW THEY'RE RELIABLE
IF I'M TRAVELING LOCALLY AROUND EUROPE THEN EASYJET IS MY FAVOURITE RATHER THAN PLAYING RUSSIAN ROULETTE WITH RYANAIR
ACCOMMODATION: THOUSANDS OF US BUDGET TRAVELERS BOOK OUR HOSTELS AND ACCOMMODATION THROUGH THE WORLD'S MOST POPULAR HOSTEL BOOKING SITE HOSTELWORLD, OR BOOKING.COM. FOR OTHER ACCOMMODATION WHEN I LOOK FOR A PLACE TO MYSELF I BOOK THROUGH AIRBNB
TOURS/ACTIVITIES: ONE THOSE RARE OCCASIONS I DECIDE TO DO AN ORGANISED TOUR OR EXCURSION I WILL BOOK THROUGH CONTIKI AND INTREPID TRAVEL. BOTH ARE VERY RELIABLE, GREAT COMPETITIVE PRICES AND A CHANCE TO MEET OTHER TRAVELERS
TRAVEL INSURANCE: SOME DON'T LEAVE HOME WITHOUT IT, OTHERS THINK IT'S A NUISANCE. I BUY TRAVEL INSURANCE DEPENDING ON THE TRIP, AND WORLD NOMADS FOR ME ARE THE MOST COMPREHENSIVE FOR LONG TERM TRAVEL
TRAVEL PRODUCTS/READING MATERIAL: OF COURSE IF EVER YOU NEED TO BUY ANYTHING THE FIRST PLACE I LOOK IS WITH AMAZON, AND FOR READING I HAVE MY KINDLE UNLIMITED
Want to continue your journey with Forever Roaming the world but not sure where to go? Simply jump over to the Start here page and I will gladly guide you through the site.

WANT TO JOIN THE COMMUNITY? SIMPLY POP YOUR EMAIL INTO THE SIGNUP FORM BELOW AND RECIEVE YOUR FREE STEP BY STEP BUDGET TRAVEL RESEARCH AND PLANNING AID

Don't forget to pin solo backpacker tips