(Last Updated On: September 24, 2020)
Hostel life is part 1 of Forever Roaming the World's traveling realisms series
Are you staying in a hostel for the first time?
If so, are you prepared for what your first hostel experience could be like, or want some backpacker hostel tips?
I'm asking because a lot of first time backpackers don't have a clue what backpacker hostel life is really like. Yeah, I'm sure you've got clued up by reading about backpacker hostels, watched a few vlogs, some hostel videos, read some reviews but are you clued up on what really happens in them?
This isn't me trying to be facetious in any way. But having stayed in backpacker hostels since 2010, I've met countless people who thought they knew what their first hostel experience would be like, only to realise they walked in blind and had no idea what hostel life is actually like.
That's because anybody staying in a hostel for the first time usually have things like "What will my backpacker hostel be like?, "Will it be clean?", How will I make friends?", "What will the dorms be like?" running through their heads. These questions get answered in blogs, vlogs and reviews. But, how many of them tell you about hostel life and show you what your first hostel experience can really be like or show what hostel dynamics are like? What happens from the second you walk through the doors?
In this post we will cover how those first few moments of hostel life can go and cover different areas and provide some backpacker hostel tips. We dive into how your first hostel experience might shape the type of backpacker you turn into.
Backpacker hostels are more than just a place to sleep
One of the first things backpackers, especially first time backpackers realise about staying in a hostel for the first time and backpacker hostel life is they can be more than just a place to sleep. Beforehand most of us think backpacker hostels are just a place to drop your bags while you explore the area, then return to sleep. But Believe it or not, backpacker hostels can play an integral part of your journey. Not just your first one but through your backpacking life. Backpacker hostels have the power to make of break your whole trip.
I know that sounds a bit far fetched but, ask anybody who has stayed in backpacker hostels and they'll say the same and I'll show you what I mean.
Why are backpacker hostels more than just a place to sleep? Well a big backpacker hostel tip for any first time backpackers is to know they're not hotels. In most cases a hostel is a social place to meet other backpackers, make friends, They're communal places, they can offer comfort, be a hub, and even a sense of home. The longer you're away from home, the more hostel life plays a prominent part of your overall journey.
That first hostel experience can be easy for some but harder for others
Not everybody has the same backpacker hostel experience. It would be easy for me to say everybody's first hostel experience will be easy and backpacker hostel life is not daunting or scary. I can tell you everybody wants to be your friend, that everything will be easy, or that every hostel you walk into will be clean and have no problems. But, that would be bullshit. Here's another backpacker hostel tip: Unfortunately hostel life isn't always a walk in the park.
For some of you, that first hostel experience will be easy, you'll stay in a awesome place, meet an awesome crowd, make friends straight away, feel at home. However for others of you staying in a hosel for the first time might be the most daunting experience. You might be socially awkward, you might just not want to meet people, there may be some fear. But it doesn't matter what type of person you are. those first few moments are the same for all of us.
Your first hostel experience can be like…
Have you ever had to switch schools, or remember that first day at a new high school or even walking into your uni halls for the first time? Or starting a new job? Remember how you felt? Well that's the best way to describe what those first few moments of hostel life can be like.
Depending on the person you are, you might be excited, full of beans and confident, you might have butterflies, might be nervous, or it might even be a little overwhelming at first. There could be some initial uncertainty, feel out-of-place and even awkward but don't worry it's completely normal to feel like this staying in a hostel for the first time.
Your first moments of hostel life can be like…
Like I mentioned, I've stayed in so many hostels and all types all over the world since 2010, I'm well immersed in hostel life. Let me paint you a picture of what staying in a hostel for the first time can be like.
Your first moments of hostel life normally go like this:
As soon as you step inside, your brain will be in hypermode, trying to take snapshots of everything around you but nothing will sink in. You'll try and find the reception desk, your heart thumping, as your eyes take in unfamiliar surroundings and strangers walking past you.
The receptionist in most cases will try and make you feel at ease, talk up the hostel, give you information on events, tours, pub crawls (if you're in a party or very sociable one). They'll tell you about things to see and do in the area, & usually tell you about the free walking tour but nothing sinks in. You'll be trying to gage if the hostel is small or big, is it clean, anything appealing about it. You'll find yourself watching other backpackers around you thinking what are they like? Will they be friendly? How are they interacting with each other? What's the atmosphere like? Is there a buzz, are people getting drunk?
All of this will spin through your head like a hurricane in the first few minutes, taking in nothing but you'll wonder if hostel life will be for you. You might even find, in those moments you've already decided you don't like it, even without interacting with anyone. You might convince yourself you want to leave as soon as possible, that backpacker hostel life isn't for you. Don't worry it happens to most of us with our first hostel experience.
What you won't realise is though, the other backpackers, the receptionist and staff will be trying to gage an idea of you too. What kind of person are you? Will you be friendly? Will you fit into the dynamics of the backpacker hostel? Are you trustworthy? Do you smell? Will you be a good or annoying roommate? These things will run through their heads. Like I said, first day at school vibes. All this will run through your head while you're still at the reception desk.
Book your first hostel stay through Hostelworld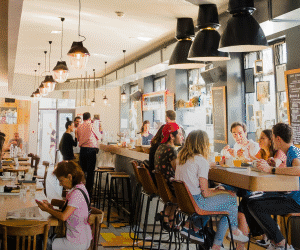 Your first hostel experience: The tour
In most backpacker hostels, once you've checked in a quick tour will follow. If they have them, you'll get shown or pointed out the common areas, storage rooms, TV room, kitchen, lounges, bathrooms, gardens, courtyards, terraces with your dorm room the final destination. You'll get talked through the hostel rules, maybe even the unwritten rules of staying in a hostel
Hostel life begins in the dorm rooms
It's fair to say, if you've never stayed in a dorm, or had to share a room before they can take some getting used to. In most cases, the dorm dependant of what size you've chose will consist of bunk beds (some are comfier than others), lockers, possibly en-suite bathrooms, a window or even a balcony and other backpackers.
99% of the time the first thing you'll do is scan the room, how big is it? Do the bunks look comfy? Does it smell? (yup some dorms do smell) Are there others in the room? You'll find your bunk and try to settle. With it being your first hostel experience, guaranteed, you'll lock up everything in your locker.
One thing to realise though and this is another backpacker hostel tip; you're paying for the bed not the actual room. So keep your personal belongings in and around your bed and lockers. Don't just dump your bags in the middle of the room, that's a sure fire way to piss people off instantly and make your introduction to hostel life much more difficult.
Most beds nowdays come with personal power points to charge your appiances, however if there are only main ones dotted around the room, you'll have to share with eveybody else. If they are beind used, wait your turn, you don't have the right to pull anybodies plug out to charge your own.
Hostel snobbery too, is frowned upon and although most hostels have written rules, there are some unwritten rules too learning hostel etiquette will make your introduction to staying in a hostel for the first time a lot easier
HUGE BAKCPAKCER HOSTEL TIP: If you're leaving in the middle of the night, make sure you pack your bags before others go to sleep or take your belongings out of the dorm room DON'T PACK WHILE PEOPLE ARE SLEEPING!
Your roommates
Once you've settled, or tried to, you're going to notice others backpackers in the dorm. Backpacker hostels are mainly very sociable places and easy to make friends. There will be some in the same shoes as you and still getting used to hostel life, while others will be experienced. In your dorm room you may find some quite friendly and say hi, and try to strike up a conversation with you, but you might find some that don't.
Don't take it personally, you don't know their situation, they might be having a bad day, something might be going on or they might just not be very talkative. It happens, not everybody is going to want to be your friend.
On the other hand, from your perspective, be respectable of others, do say hi, smile, try and talk to people and don't be afraid to strike up a conversation. You'll be surprised at the lifelong friends you can make in a dorm.
Hostel life: Communal and shared areas
Bathrooms
Depending on what type of hostel or dorm room you've chosen, you will either have an en-suite bathroom, sharing with just your roommates, or you'll have general shared bathrooms, where It's shared with all the hostel guests.
I'm pretty certain you'll have all kinds of rotten things going through your head about the bathroom but let me ease your mind. In general they are cleaned on a regular basis, of course there will be the odd cases where they'll make your stomach churn. Most hostels bathrooms come equipped with sinks, toilets and seperate stalls for showers too. Again the showers are generally fine, some will be amazing, a few dog-shite but in general ok.
Remember not to leave your things behind, while backpacker hostels are generally safe places, toiletries are some of the biggest things to go missing and you'll most likely experience it during your first hostel experience. And the funny thing is, you can leave your toiletries lying around in the dorm and nobody will touch them, but leave them in the bathroom and they'll be gone & that's just part of hostel life.
The crime scene!
You might find your backpacker hostel comes with a shared kitchen. having a kitchen in a hostel can be great but also horrifying. Normally in hostel kitchens, utensils, pots and pans are provided for you. The majority of the time there is a free food shelf or basket with condiments, spices, oil, or dry food like rice and pasta, from backpackers who have left. Some kitchens are better equipped than others.
While having a hostel kitchen can be great, to buy your own food, cook and help keep your budget down, there is a downside too. The kitchen is where most arguments and theft happens.
The arguments happen because it can get frustrating when a load of people want to cook at the same time, or things are left in a mess and people don't wash what they used. You'll find most backpacker hostels with signs plastered all over the kitchen to clean up after yourself. And the major thing to start an argument is backpackers who help themselves to things that isn't theirs. While stealing shower gels and shampoo is fair game, that same sentiment doesn't work in the kitchen.
If you choose to buy your own food, label your items clearly (there's normally instructions on how to) and put your things in your allocated place. Also be mindful it's a backpacker hostel kitchen, clean up after yourself and don't fucking steal other peoples items. If you want to borrow something just ask.
(Compare hostels with hostelworld and booking.com)
Lounge/common areas
There is likely to be a lounge space or common area of some sort in your backpacker hostel for people to hang out and relax. These are great places to meet and make friends with people outside of your dorm or just do unwind. Lounge and common areas make your hostel life much more comfortable.
You might find a TV room, with movies, netflix, a reading room, games consoles, even gaming rooms, pool tables or arcade machines. All these things are there to help you feel at home, give you some home comforts and make your hostel life feel easier. There are some hostels that go beyond to make your stay pleasant.
Don't be surprised to see backpackers lounging around, playing cards, board games, on their phones, or seemingly doing nothing. While you might be staying in a hostel for the first time, but they may have been staying in a hostel for a while and become long termers, used to hostel life and just don't want to do anything.
And, depending on the type of backpacker hostel your staying in, you might find some or a lot of backpackers drinking, getting drunk or high no matter what time of day or night. This is all part of hostel life & and you'll get used to it, and possibly even join in.
Socialising is a big part of hostel life
One of the biggest draws and you'll find this with your first hostel experience is the social aspect of hostel life. There are ample opportunities to hang out with people and to make friends, from your roommates, people you meet in and around the hostel or by organised events. It's common to find events like, organised walking tours, trips, nights out, parties, pub crawls, BBQ nights, pizza and movie nights, dinner nights, and so much more.
Smile

, say hi & your first hostel experience will be easier
Backpackers come in all shapes, sizes and personalities. It doesn't matter if you're the most confident or most tepid person. If you want to make friends in a backpacker hostel it can be as easy or hard as you want it to be. I understand for some people walking into a new environment can feel quite daunting & staying in a hostel for the first time even more so. But even if you're shy, tepid, or even scared a simple smile and just saying hi can go such a long way.
Like I mentioned before, not everybody is just going to walk up to you and start a conversation with you. Sometimes, the onus is on you to make the first move and just saying hi with a smile can be all it takes. One thing I've learnt over the years, the easiest thing to do apart from just saying hi, is to simply share a beer with others. You'll be surprised at the amount of friendships born out of sharing a beer. Before you know it, you'll be in a full swing conversation making future travel plans with each other and feel like you've known each other your whole life.
Backpacker hostel tip: Stay away from the backpacker talk
Something I was taught during my first hostel experience and It's kept me in good sted to this day, stay away from the backpacker talk; we hate it.
What's the backpacker talk? It's recycled questions many backpackers ask when they first meet another backpacker. It usually goes like this: Is this your first trip? How long are you backpacking for? Where have you been? Where you heading next? What route you following? How long you been here for? Blah, blah, blah…
Now I don't mean to sound like a duechbag backpacker, sure we all want to know about other peoples trip but drip feed those questions into a natural conversation. For you being on your first trip and first hostel experience this is all new to you. It's the first time you're asking these questions but to the other person they may have heard them a million times.
The longer you travel for you'll understand why backpackers hate that line of questioning. It's because some just rely on it, they can't deviate away and once the questions have been asked the conversation dies. And just those questions are boring once you've traveled for a while. So ask the questions but weave and drip feed them into a natural conversation.
You'll see all kinds of things during your hostel life
You may get exposed to things during your first hostel experience, and it can affect your experience of hostel life but you should keep an open mind. Things happen in backpacker hostels, well anything and everything can happen in them; things you're not used to seeing or experiencing. There might be stuff that shock you, things you don't find acceptable but remember you chose to stay there and those things are part of hostel life. Now It's important to know, you are under no obligation to partake in anything you don't want to, just turn a blind eye to it. Staying in a hostel for the first time can be quite the eye opener for some.
In some backpacker hostels you can come across people getting drunk at all hours of the day. you might see people who seemingly don't do anything, you might see people take drugs, openly in some cases. And you can be on either side of this but you'll come across people having sex in dorms, in bathrooms, even in public areas. It happens, if you agree with it or not, so keep an open mind for you first hostel experience because like I said It's all part of hostel life.
Hostel life traveling reality
Do be careful though, the hostel life can be quite intense sometimes and you might find yourself sinking deep into the hostel backpacker trap. You know you've fallen in when you forget you're even there to travel.
Hostel life can be fun and you can end up having a better time in the backpacker hostel than the actual destination but there will be times it's hard. There will be times when you book a backpacker hostel that's shit, dirty, smells, has no atmosphere or have bunks that could snap at any slight move. There are backpacker hostels that are falsely advertised, but overall and in general backpacker hostels can be the cornerstone of your backpacking life. I hope your first hostel experience turns out a great as mine did.
Begin your hostel life here with hostelworld or Booking.com (click on banners below)
***
How did you find this latest post from Forever Roaming the World, I'd love to hear you thoughts on it, just pop a comment below. If you enjoyed this post don't forget to share it around with your friends.
CREATE YOUR FUTURE TRAVEL RIGHT HERE ON FOREVER ROAMING THE WORLD, I'VE GOT YOU COVERED
HAVING LONG TERM BUDGET TRAVELED SINCE 2010, I KNOW WHAT IT'S LIKE TO PLAN AND BOOK A TRIP ON THE TIGHTEST BUDGETS. THE SITES AND TOOLS LISTED BELOW ARE MY TRUSTED GO-TO SITES, FOR EVERYTHING I NEED.

PLANNING: USEFUL BUDGET TRAVEL WEBSITES – THIS PAGE LISTS OVER 100 WEBSITES AND APPS TO HELP WITH RESEARCH
IF YOU NEED HELP WITH PLANNING AND RESEARCHING, THIS STEP BY STEP PLANNING AID MAY JUST BE WHAT YOU NEED
FLIGHTS: WHEN IT COMES TO SEARCHING FLIGHTS, I FLITTER BETWEEN SKYSCANNER AND E BOOKERS UK FOR THE BEST PRICE AND FLEXIBILITY AND BECAUSE I KNOW THEY'RE RELIABLE
IF I'M TRAVELING LOCALLY AROUND EUROPE THEN EASYJET IS MY FAVOURITE RATHER THAN PLAYING RUSSIAN ROULETTE WITH RYANAIR
ACCOMMODATION: THOUSANDS OF US BUDGET TRAVELERS BOOK OUR HOSTELS AND ACCOMMODATION THROUGH THE WORLD'S MOST POPULAR HOSTEL BOOKING SITE HOSTELWORLD, OR BOOKING.COM. FOR OTHER ACCOMMODATION WHEN I LOOK FOR A PLACE TO MYSELF I BOOK THROUGH AIRBNB
TOURS/ACTIVITIES: ONE THOSE RARE OCCASIONS I DECIDE TO DO AN ORGANISED TOUR OR EXCURSION I WILL BOOK THROUGH CONTIKI AND INTREPID TRAVEL. BOTH ARE VERY RELIABLE, GREAT COMPETITIVE PRICES AND A CHANCE TO MEET OTHER TRAVELERS
TRAVEL INSURANCE: SOME DON'T LEAVE HOME WITHOUT IT, OTHERS THINK IT'S A NUISANCE. I BUY TRAVEL INSURANCE DEPENDING ON THE TRIP, AND WORLD NOMADS FOR ME ARE THE MOST COMPREHENSIVE FOR LONG TERM TRAVEL
TRAVEL PRODUCTS/READING MATERIAL: OF COURSE IF EVER YOU NEED TO BUY ANYTHING THE FIRST PLACE I LOOK IS WITH AMAZON, AND FOR READING I HAVE MY KINDLE UNLIMITED
Want to continue your journey with Forever Roaming the world but not sure where to go? Simply jump over to the Start here page and I will gladly guide you through the site.

WANT TO JOIN THE COMMUNITY? SIMPLY POP YOUR EMAIL INTO THE SIGNUP FORM BELOW AND RECIEVE YOUR FREE STEP BY STEP BUDGET TRAVEL RESEARCH AND PLANNING AID

Would you like to read more from the traveling realities series? Simply just click on the episode you want below.
If you enjoyed this hostel life post why don't you give it a share and pin for later